If you have some feedback you'd like to share, Please send it to us.
If you would like to read the Google Reviews about Pinellas Power Products here is a link to that Page Google Reviews
---
EV4010 Control Box Failure
Paul has helped me twice over the phone, pin pointing the problem with my EV4010. First time was troubleshooting nuisance shutdowns which we traced back to stuck brushes and burnt slip rings. Cleaned up brush holders and polished slip rings, problem solved. Most recently I fried the control box due to a 12V battery over voltage condition caused by a defective windmill dump load resistor. Over the phone Paul talked me through a step by step procedure to be certain the control box was in fact internally shorted to ground, blowing the F1 fuse. He was cautious to diagnose as he has not experienced many control box failures, especially with only 400 hours on the generator. Turns out, the over voltage condition likely fried the control box, not necessarily a failure of the control box. Thanks for all your help and videos, they are invaluable to a DIY troubleshooter.
Anthony Argenti
Levittown, PA
6/14/23
Westinghouse 4500i
I bought the kit for my Westinghouse 4500i last fall and finally got it installed last week. The instructions were easy to follow and I was very pleased when I did a bench test and it preformed perfectly. Then I remodeled the fuel line on my motor home which had previously used an Onan generator. When I first connected the 4500i to the motor home I had a little trouble getting the air out of the new fuel system but with a second try this morning, everything is working perfectly.
Thanks for engineering this Extended Run kit, it is exactly what I needed.
Floyd Jenks
Spirit Lake, ID
5/4/23
A Series of Unfortunate Events
I had first attempted to use one of your competitors cap replacement solutions for my generator. It simply didn't work. It leaked immediately from around the poor fitting cap. With a better seal I ended up the next day with fuel leaked all over the ground due to the reasons you gave in your excellent video. It doesn't work with the extended tank on the ground either. Fuel leaked into the crankcase from that could have caused engine damage if not detected. I was excited that you have a better solution.
Paul B
Marietta, GA
4/16/23
Disregard Previous "Horrible Packing" Review
I recently wrote a less than stellar review regarding the "Horrible Packing" of the product, however, I didn't realize Canadian Customs opened the package and did not put back the packing material, which is very frustrating and something to keep in mind when ordering from a different country. This would account for the different components looking worn as they were loose in the box during shipping.
***I did get a chance to install it recently and it all works great, as advertised.***
Neil
Newfoundland, Canada
6/20/22
Horrible Packing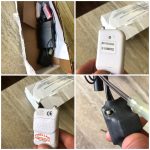 I received my wireless shut off today for the Honda 2200 generator. I was not impressed by how it was packed and items looked damaged. All the items in the kit were loose in the box and rattling around when I picked it up. The battery was in the on position and it looks like a used wireless fob according to the marks on it. Also looks like there is a chunk of plastic carved out with a knife from the transmitter. For the price this costs, it does not look professional at all. Hopefully it works when I try it. Pictures attached.
Reply From Pinellas Power Products:
I thank you for your feedback, however, your issue is with Canadian Customs, not with Pinellas Power Products. Your Item was properly packaged when it left Pinellas Power Products. You are in Canada so when Canadian Customs agents opened the package to inspect it they did not put the packing foam back in the box. They simply threw the items in the box and sent it on to you, that is why everything was moving around in the box. The chunk is carved out of the receiver, not the transmitter, it is to allow you access to the reprogramming function if it becomes necessary.
Update from Niel Murphy
I recently wrote a less than stellar review regarding the "Horrible Packing" of the product, however, I didn't realize Canadian Customs opened the package and did not put back the packing material, which is very frustrating and something to keep in mind when ordering from a different country. This would account for the different components looking worn as they were loose in the box during shipping.
***I did get a chance to install it recently and it all works great, as advertised.***
Neil Murphy
Newfoundland, Canada
6/13/22
Remote Replacement
I bought the remote start kit for our Honda 3000 6 years ago. Finally I just plain wore them out. I ordered replacements online and was immediately contacted to clarify which generation of remote I had. Quick, immediate turn around time. I received the new ones in 2 days. It is a pleasure to do business that is caring to serve, precise and prompt.
Ron McGuire
Roseburg, Oregon
6/8/22
Remote Shut Off
Just a quick note to say thank you! I purchased the remote shut off unit for my Honda 1000 some time ago but only recently installed it. Your video tutorial was excellent and easy to follow which resulted in a perfect install. Thus far, the remote shut off works flawlessly and I look forward to using it at the camp to make life just a little easier. Thank you again for a quality product. Wishing you continued success.
Sandy M.
Nova Scotia, Canada
7/9/20
Extended Fuel Kit
I just wanted to email you and tell you how awesome your extended fuel kit for my EU7000iS worked. I installed it watching your awesome video, I live on the east coast we just had a bad wind storm lost power for two days your kit was a lifesaver I own handler 2000 and 3000 and will be adding kits to them in the near future
Thanks
Willie Simone
Westerly, RI
10/20/19
Honda EU2000i Remote shut off
Thanks Paul for the remote shut off for my Honda. It was quick to set up, tested it and works well!! It will serve its purpose when I don't have to shut off the gas manually and worrying about bears in the bush. My husband will have no worries now while he's away and I'm at camp. I will definitely be spreading the word to my other family members about the nifty little product.
Monica Madahbee
8/6/19
Long Distance Remote
Hi Paul,
I just want to send you this email to thank you for the remote start and the long distance remote for my Yamaha 3000iseb.. your product is far more superior then the Yamaha remote I have on my other 3000iseb. The options, to remote control the econo and receptical is just mind blowing. The cost including exchange and shipping duties etc was cheaper then Yamaha's remote in Winnipeg. Installation was straightforward and shipping to Winnipeg, Manitoba Cananda was extremely fast. Now I'm thinking of removing the Yamaha remote start on my other 3000.. will definitely keep you in mind if i decided to do this. Everyone should buy your product they don't know what they are missing.
Thanks again
Sheldon Beel
Winnipeg, Manitoba, Canada
4/4/19
I am an over the road truck driver who needed a reliable generator for my Kenworth T2000. I bought my Honda EU3000iS about 1 year ago and it has worked very well . It took a little sorting out , but with the long range wireless remote control kit and extended run fuel tank kit both from Pinellas Power Products, it now works great for me. This system actually works better than my old APU that cost almost 3 times as much money. I use the switched outlet to power up my block heater which my old APU could not do. I would recomend the Honda EU3000iS with the Pinellas Power Products kits to anyone looking to replace their old Auxiliary Power Unit.
Name Withheld at customers request
9/29/18
Superior in Every Way
If this were a rating similar to other product sites, I would give Paul and Pinellas Power Products 6 stars on a scale of 1-5. Their products are superior in every way and customer support is exceptional. I purchased an extended run kit for my generator and everything worked the way they said it would. Also, their videos are on point and easy to follow. I have no reservation in recommending this company to anyone, even novices.
Robert Stewart
Professor EMERITUS The University of Georgia
9/11/18
Incredible Product
Hi Paul.
Just wanted to say thank you for an incredible product. Installation went great as I followed the video. Works as advertised.
On a side note. Can you recommend an hour meter for the eu3000?
Thanks again.
Michael Kinney
8/7/18
EV6010 Tech Support Videos
Hi! Re your EV6010 tech support videos. I can't thank you enough for all the information and thought you put into making them. I'm having the typical "no start" scenario you described. I bought myself my first lil multi-meter and followed along your carefully laid out troubleshooting steps. And you confirmed my suspicions that unfortunately I'm gonna have to do the dreaded generator removal from the RV. As it is not producing AC, confirmed by the test you showed on the 2 brown wires only showing a half a volt. While the generator removal is going to be a dreaded all day event accompanied by a few swear words and some bloody knuckles. That's going to be the hardest part of the job. Because your videos are going to make fixing this thing a heck of a lot easier then the removal of it!
It's because of your videos that I WILL be able to repair this unit on my own!!!!
THANK YOU! THANK YOU! THANK YOU!
Reena Lavoie
2/28/18
Hey Paul,
First let me apologize for not getting back to you sooner. Got a bit tied up and did not get a chance to try your suggestions on the choke problem with my installation of your system.
Any way it was fantastic! I removed the original screw on the choke cable as suggested. hit the start button and it fired right up without activating the choke.
Would like to tell you how impressed I am with you and your company from start to finish. I ordered and received everything in amazingly quick time. And when I e-mailed you to ask a question on the choke issue I think you called me (which is unheard of) as soon as I hit the send button. That response is not only very much appreciated, it is almost unheard of these days, and the fix was spot on!
You should do another You-Tube video on how to run quality Customer Service. Other companies should certainly follow your example!
Thanks again and you can be sure i will pass on the opinion to as many as I can.
Carl Gardner
2/14/18
Remote Shutoff
PW, The shut off is beyond simple and works great! I have been looking for something like this to fill the need. I have an off grid cabin that is powered by a Honda 2000, usually on idle. So as I am the most sleepy and groggy comes the dreaded time to shut off the generator. Since I sometimes am in the toasty cabin with the wood stove and outside is the deep snow and -15F, it's ok suit up, coat, hat, boots and go shut off the generator in its little "doghouse" 50 feet away. No more!
Thanks
Dean
Adirondacks, New York
1/9/18
Remote Start Kit for Honda EU7000is
Paul
I just wanted to say that your remote start kit for the Honda EU7000is is well designed and with your thorough instruction video, easy to install. Worked great first try! I have a camp / cabin on an island on Sebago Lake and Maine and this product will make my life so much easier.
Only one question/comment:
My dream is to arrive to the camp at night (by boat it's on an island) and remote start the generator from the water to switch on a spotlight. The issue is that it requires leaving the generator on standby for an extended period of time (1-2 weeks at most).
Have you every determined how long the generator can remain on standby with a larger capacity battery I.e. Maybe a deep cycle marine battery or auto battery? Appreciate any thoughts or suggestions.
Thanks
Reply: Battery life is about 2 days on stand by, the best way to do what you want is to use a solar battery maintainer, get at least a 20 watt unit, the 5 watt ones are a joke.
John Franks
8/14/17
Simple to Install and Operate
Hi Paul
The wife recently bought me remote shut off kit. It was simple to install and operate. However, I do have one question. Can you think of any reason why I cant directly plug USB in to the plug skipping the battery bank entirely?
Cheers Happy with the purchase.
Cheers Happy with the purchase.
Reply: You have an EU2000i, that unit stops making power when the RPMs drop below 1200 so without the battery it would not shut off completely.
Derrick
5/8/17
Remote Shutoff for Honda EU2000i
Mr. Wolaver,
Thank you for the kick-arse remote shut off for our Honda EU2000i Genny at our off grid cabin.
Easy to install, we ordered early last week and it arrived Thursday…great stuff.
Works super well, worth every penny
Best regards
Victoria
5/1/17
Wireless Remote for EU7000iSE
I just finished installing your 4 Function Wireless Remote for our Honda EU7000iSE. Outstanding video. It was painless and works outstanding. I really think you did a great job.
Thanks
Greg
4/15/17
Wireless Remote for Honda EU3000iS
Many thanks !!! Fast response and fast delivery On 4 Function Wireless Remote for Honda EU3000iS!
Product works well and i will highly recommend your company and product
Thanks a lot
Yves Lapointe
4/7/17
Remote Start
Paul, I just wanted to thank you for your remote starter I bought from you two weeks ago. I put it in this weekend and it was easy and took about 4hr because I took my time. The video was great and I know I'm going to love it. I have the generator mounted on top of our living quarters horse trailer and can wait to hit the road in April. Thank you so much!!!
Aaron J Shields
2/5/17
Thanks for your help along the way
Hi Paul,
I got sidetracked and just made it to the air box part of the installation (auto choke). Any idea what the unit at the top of this airbox is and how i remove it?
On Oct 5, 2016 6:24 PM, "Paul Wolaver" paul@pinellaspowerproducts.com wrote: you must be in the North that is cold weather kit do not remove it, keep in the hose and move the entire hose.
Update: 10/06/2016
Ha, yes. Although it's toasty warm here right now, cold weather isn't far away.
Got everything sorted out and the kit works like a champ. Thanks for your help along the way.
Paul Rocco
10/5/16
Original Electric Start Kit with Remote Control for Honda EU2000i
I just wanted to say that the install went perfect and I enjoyed it thoroughly , using you install video. You are a true genius. Thanks for putting together such an awesome product. It. Works awesome. The only thing I had to do was go buy a new battery as the batteries in the remotes were dead. You sent one extra battery I just went out and bought one more. Other than that all went well. Thanks again and have a great day !!!! PS. If I sent you an electrical diagram of my gravely generator ( with a Honda engine ) could you design a remote shutdown for it. That would be all I want it to do. It has an on board battery and electric start. Let me know if you would be interested. Thanks…..
Tom Oldham
9/24/16
Great Quality
First I want to say thanks for such quick shipping of the product to Canada, second I want to let you know how pleased I am with the general quality of everything (everything appears to be of great quality). Your instructional video has been awesome (excellent detail & explanation), however I have run into a glitch while installing the wires from the relay to the 20amp outlet. I have a 2016 canadian model and the wiring is different than on your supplied usb video and I just checked your website (video is the same). I actually have 2 red wires going to the upper end and 1 red wire going to the lower end on the 1 side of the 20amp plug in (your video only shows 1 red wire), there is also no existing jumper between these 2 connections (your video stated there should be one there that I should be removing). Since this is a brand new generator I do not want to take any chances and am therefore requesting your assistance in what I should be doing. Attached is a couple photos for reference. Thanks
Reply From Paul Wolaver
Yes this is correct. The Canada model units are actually easier to install due to the fact that they have a separate breaker for each outlet. This is all you will need to do. Remove the wire that runs from the breaker to the outlet that you want to control, then put the blue wire from my kit where one end of that wire was, then put the red wire of my kit where the other end of that wire was. you will need to change the end on the wire that you put on the breaker. It is that easy.
Chris Walther
Okotoks, AB
9/6/16
COULDN'T BE HAPPIER
Hello Paul, received my remote start kit for the Honda 3000,,, Watched the installation video 1 time last night , received it at 10:30 this morning , had it installed bout an hour !! COULDN'T BE HAPPIER !!!! Video was as if I were there with you , loved the way you hit the "little" points !! Works like a charm . The main reason I purchased this is do to where I live , a resort on the river here in Sacramento Ca , when winter hits there are several power outages here do to 50 plus year old infrastructure , anyway , my sister lives with me and when I'm gone she would not have been able to go out hook up the generator get it going etc etc,,,, it is now wired directly to the house via transfer switch , all she has to do is throw the transfer switch and hit the remote !! Great design, neat installation , fair price !! Once again thank you and I will push this product !!!! John !!!
John Giglio
8/19/16